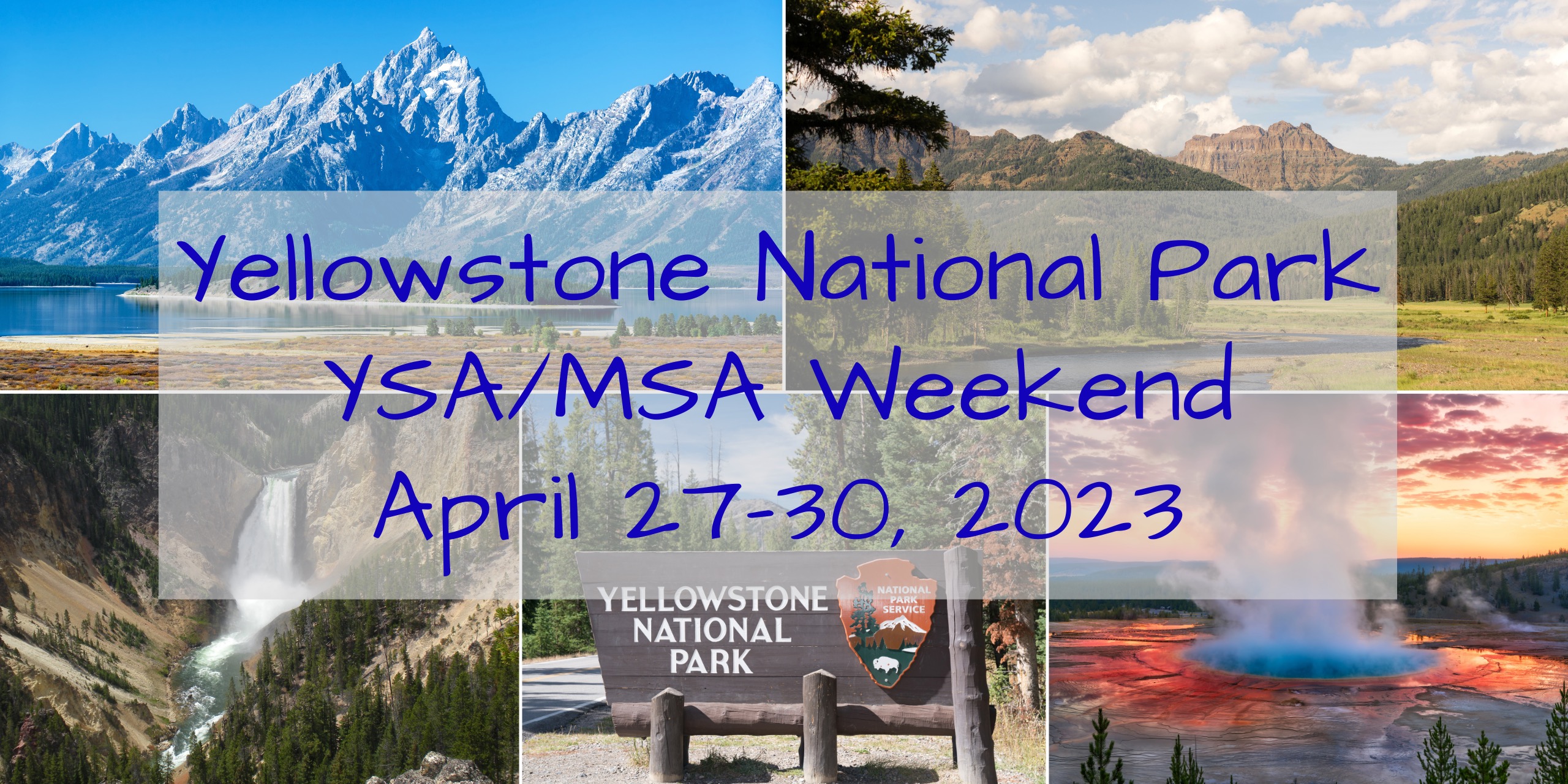 Let's explore the world's first national park
Yellowstone, wyoming
~ old faithful, hot springs, Mud Volcanos, bison, grizzly bears, river otters, mountain lions, ruffed grouse, wolves, waterfalls, thermal geysers, hissing mountains, and more! 
Come see why Yellowstone has been a national treasure for 150 years.
Dates: April 27-30 , 2023
Location: "Henry's Lake," Island Park, Idaho
Hosts: Cheri & Tom
Ages: YSA & MSA Singles
space is limited to 26 guests.  don't wait.
Countdown to the YSA/MSA Yellowstone National Park Weekend
Things To Do in Yellowstone
Old Faithful
Watching Old Faithful Geyser erupt is a Yellowstone National Park tradition. People from all over the world have journeyed here to watch this famous geyser. The park's wildlife and scenery might be as well-known today, but it was the unique thermal features like Old Faithful Geyser that inspired the establishment of Yellowstone as the world's first national park in 1872.
Old Faithful is one of nearly 500 geysers in Yellowstone and one of six that park rangers currently predict. It is uncommon to be able to predict geyser eruptions with regularity and Old Faithful has lived up to its name, only lengthening the time between eruptions by about 30 minutes in the last 30 years.
Thermal features change constantly and it is possible Old Faithful may stop erupting someday. Geysers and other thermal features are evidence of ongoing volcanic activity beneath the surface and change is part of this natural system. Yellowstone preserves the natural geologic processes so that visitors may continue to enjoy this natural system.
Grand Canyon of yellowstone
The Grand Canyon of the Yellowstone River expresses the park's complex geologic history in dramatic colors and shapes. Puffs of steam mark hydrothermal features in the canyon's walls. The Upper and Lower Falls of the Yellowstone River add to the grandeur of the unique natural treasure.
Experience the canyon from a variety of overlooks, at different times of day, and at different seasons. A number of trails and walkways wind along the rims and down partway into the canyon.
Lake Yellowstone
The earliest intact archeological deposits in the park have been found at a site on the shore of Yellowstone Lake. The site was excavated because it was at risk of erosion, and revealed evidence of a 9,350-year-old camp where several families appear to have spent time. People probably used this area in the summer while hunting bear, deer, bighorn, and rabbits, and perhaps making tools and clothes. Artifacts dating to 3,000 years ago have also been discovered on islands in the lake, leading some archeologists to speculate that indigenous peoples used watercraft to travel there.
Mammoth Hot Springs Terraces
Walk on boardwalks above the steaming hydrothermal features or take a drive around the vibrant travertine terraces. In the winter, ski or snowshoe among the whiffs of sulfur along the Upper Terraces.
Mud Volcano
The hydrothermal features at Mud Volcano are primarily mudpots and fumaroles because the area is situated on a perched water system with little water available. Thanks to thermophiles, the vapors are rich in sulfuric acid that breaks the surrounding rock down into clay. Hydrogen sulfide gas is present deep in the earth at Mud Volcano. As this gas combines with water and the sulfur is metabolized by cyanobacteria, a solution of sulfuric acid is formed that dissolves the surface soils to create pools and cones of clay and mud. Along with hydrogen sulfide, steam, carbon dioxide, and other gases explode through the layers of mud. A series of shallow earthquakes associated with the volcanic activity in Yellowstone struck this area in 1978. Soil temperatures increased to nearly 200°F (93°C).
Fishing Bridge
The original bridge was built in 1902. It was a rough-hewn corduroy log bridge with a slightly different alignment than the current bridge. The existing bridge was built in 1937. Fishing Bridge was historically a tremendously popular place to fish. Angling from the bridge was quite good, due to the fact that it was a major spawning area for cutthroat trout. However, because of the decline of the cutthroat population (in part, a result of this practice), the bridge was closed to fishing in 1973.
Watch Wildlife in Hayden Valley
Hayden Valley is a great place to view wildlife. Grizzly bears may be seen in the spring and early summer preying upon newborn bison and elk calves. Bison are often seen in the spring all the way through the fall rut. Coyotes and foxes are often seen in the valley. Ducks, geese, and American white pelicans cruise the river, while a variety of shore birds may be seen in the mud flats at Alum Creek. Keep an eye out for bald eagles, northern harriers, and sandhill cranes.
Safety Tip: Do not approach or surround bears or wolves on foot within 100 yards (91 m) or other wildlife within 25 yards (23 m). Maintain a safe distance from all wildlife.
Fairy Falls
Two different trailheads lead to Fairy Falls, which at 200 feet (61 m) high is one of Yellowstone's most spectacular waterfalls.
The northern trailhead starts at the end of the Fountain Flat Drive and follows an old road across meadows and near hydrothermal features. This is a 6.7-mile (10.7-km) hike.
The southern trailhead starts at the Fairy Falls parking area and follows an old road along the edge of the Midway Geyser Basin. This is a 5.4-mile (8.6-km) hike. Also along this trail is the side-hike up to the Grand Prismatic Overlook Trail to a wonderful view of Grand Prismatic Spring and the rest of the Midway Geyser Basin.
View Wildlife in Hayden and Pelican Valleys
Hayden Valley is located six miles north of Fishing Bridge Junction and Pelican Valley is situated three miles to the east of the junction. These two vast valleys comprise some of the best habitat in the lower 48 states for viewing wildlife like grizzly bears, bison, and elk.
Tour Hydrothermal Wonders
There are a lot of hydrothermal wonders to discover in this region, from small geysers and fumaroles to more well-known mudpots and hot springs. This is also a popular area in the summertime, so be prepared for crowded parking areas, or plan to visit during off-hours.
Terrace Springs, Fountain Paint Pot, Firehole Lake Drive, Midway Geyser Basin
Hike to the Top of Mount Washburn
With a peak elevation of 10,219 feet (3,115 m) and panoramic views for about 20 to 50 miles (32 to 80 km), Mount Washburn is a popular day-hiking destinations. It is located just a few miles north of Canyon Village. Mount Washburn is the remnant of volcanic activity that took place long before the formation of the present canyon and named for General Henry Washburn, leader of the 1870 Washburn-Langford-Doane Expedition.
Make a Historic Entrance at Roosevelt Arch
The first major entrance for Yellowstone was at the north boundary. Before 1903, trains would bring visitors to Cinnabar, Montana, which was a few miles northwest of Gardiner, Montana, and people would climb onto horse-drawn coaches there to enter the park.
In 1903, the railway finally came to Gardiner, and people entered through an enormous stone archway. Robert Reamer, a famous architect in Yellowstone, designed the immense stone arch for coaches to travel through on their way into the park. At the time of the arch's construction, President Theodore Roosevelt was visiting the park. He consequently placed the cornerstone for the arch, which then took his name. The top of the Roosevelt Arch is inscribed with "For the benefit and enjoyment of the people," which also appears in the National Park Service Organic Act of 1916.
Go on a Driving Tour
There are three side drives in this region. All of them are open only during the summer season, with Blacktail Plateau Drive opening the latest due to being in a bear management area. The first, the Old Gardiner Road, is an old, unpaved, one-way road going from Mammoth Hot Springs to Gardiner, Montana.
Upper Terrace Drive is a short, one-mile (1.6-km) loop drive with a few parking areas along the way. The drive leads you to views of the Main Terraces of Mammoth Hot Springs, views of Fort Yellowstone and the Gardner River, and right up to hydrothermal features like Orange Spring Mound.
Blacktail Plateau Drive is an unpaved, six-mile (9.7-km) one-way road that meanders through alpine forests and meadows. It provides a more rustic way to travel to Tower–Roosevelt, and gives opportunities to see wildlife and take in the beautiful alpine scenery.
Drive Through Firehole Canyon
Firehole Canyon Drive follows the Firehole River upstream from Madison Junction to just above Cascades of the Firehole. The drive takes you past 800-foot thick lava flows and to a viewing area of Firehole Falls, a 40-foot (12.2-m) waterfall.
Also along the drive is an unstaffed swimming area, which is very popular in the warmest part of the summer season. Learn more about the hazards of swimming and soaking in Yellowstone.
Norris Geyser Basin Trails
Norris is one of the hottest and most acidic of Yellowstone's hydrothermal areas. It is part of one of the world's largest active volcanoes. Many hot springs and fumaroles here have temperatures above the boiling point (200ºF / 93ºC).
Water fluctuation and seismic activity often change features. Norris is near the intersection of three major faults. One runs from the north; another runs from the west. These two faults intersect with a ring fracture from the Yellowstone Caldera eruption 640,000 years ago. These conditions helped to create this dynamic geyser basin.
Notes: Thermal activity throughout this entire area. Stay on the boardwalks and designated trails at all times.
Listen to the Hissing of Roaring Mountain
Located just north of Norris on the Norris–Mammoth section of the Grand Loop Road, Roaring Mountain is a large, acidic thermal area that contains many fumaroles. In the late 1800s and early 1900s, the number, size, and power of the fumaroles was much greater than today.
Fish the Gibbon River
The Gibbon River flows from Wolf Lake through the Norris area and meets the Firehole River at Madison Junction to form the Madison River. Both cold and hot springs are responsible for the majority of the Gibbon River's flow. Brook trout, brown trout, grayling, and rainbow trout live in the Gibbon River. The Gibbon River is fly-fishing only below Gibbon Falls.
Tour the Upper Geyser Basin
Yellowstone, as a whole, possesses close to 60 percent of the world's geysers. The Upper Geyser Basin is home to the largest numbers of this fragile feature found in the park. Within one square mile there are at least 150 of these hydrothermal wonders. Of this remarkable number, only five major geysers are predicted regularly by the naturalist staff. They are Castle, Grand, Daisy, Riverside, and Old Faithful. There are many frequent, smaller geysers to be seen and marveled at in this basin as well as numerous hot springs and one recently developed mudpot (if it lasts).
Hike to Lone Star Geyser
Lone Star Geyser erupts about every three hours. There is a logbook, located in a cache near the geyser, for observations of geyser times and types of eruptions. This is a 4.8 mile (7.7 km), easy there-and-back hike or bike that follows the Firehole River to the geyser. The trailhead is east of Kepler Cascades pullout, 3.5 miles (5.6 km) southeast of the Old Faithful overpass on Grand Loop Road.
Lone Star erupts 30–45 feet (9–14 m) about every three hours. If you witness an eruption, please note the time and report it at the Old Faithful Visitor Education Center. Biking is not permitted beyond a barrier near the geyser.
Day Hikes in the Old Faithful Area
Fairy Falls Trail
Howard Eaton Trail (Old Faithful Area)
Sentinel Meadows & Queen's Laundry Trail
Grand Prismatic Overlook Trail
Lone Star Geyser Trail
Mallard Lake Trail
Mystic Falls Trail
Observation Point Trail
Explore the West Thumb Geyser Basin
West Thumb Geyser Basin, including Potts Basin to the north, is the largest geyser basin on the shores of Yellowstone Lake. The heat source of the hydrothermal features in this location is thought to be relatively close to the surface—only 10,000 feet (3000 m) down!
The West Thumb of Yellowstone Lake was formed by a large volcanic explosion that occurred approximately 150,000 years ago (125,000–200,000). The resulting collapsed volcano later filled with water forming an extension of Yellowstone Lake. The West Thumb is about the same size as another famous volcanic caldera, Crater Lake in Oregon, but much smaller than the great Yellowstone Caldera which formed 600,000 years ago. It is interesting to note that West Thumb is a caldera within a caldera.
Ring fractures formed as the magma chamber bulged up under the surface of the earth and subsequently cracked, releasing the enclosed magma. This created the source of heat for the West Thumb Geyser Basin today.
Singles, Mingles, & Fun
We've planned several ways to play and mingle with new friends including a welcome dinner, activities at the house, games, meals, music, dancing, even a hotub.  Plus, we'll be helping groups join together to explore this incredible natural wonder of yellowstone national park.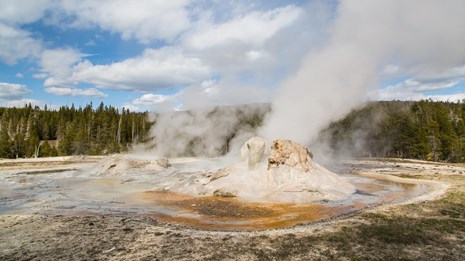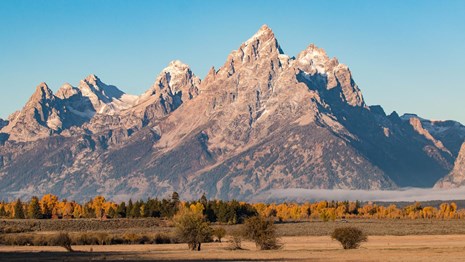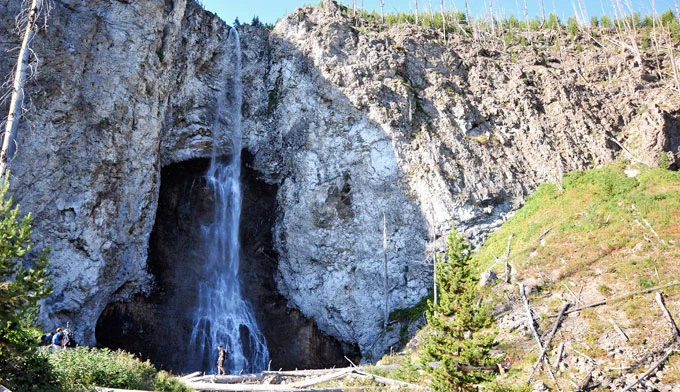 What to expect on this Getaway
When you join Cheri's Travel Spot on this weekend trip to Yellowstone, you'll have the opportunity to play, explore, mingle, have fun, and meet other cool singles just like you!
Trip Description:  If you've ever been with us to Zion National Park, this structure will feel familiar.
Check-in will be at the house on Thursday evening.  You'll meet us at the registration table and we'll direct you to your assigned room and bed.  That evening, we'll have a home cooked meal for everyone followed by a welcome meeting where we'll go over all the itinerary details, house rules, meet & greet the other house guests, and explain the optional group activities for the weekend.  On Friday and Saturday morning, we'll meet early for breakfast, make our own packed lunches and snacks for the day, and then promptly depart for the National Park.  You'll be carpooling with several of the other guests to whichever selected activities and attractions you've signed up for.  At the end of each day, we'll meet back at the house for dinner, games, socializing, soaking in the hot tub, star gazing, dancing, or gratefully passing out for a good long sleep.  Early Sunday morning, we'll host a devotional/sacrament service at the house with help from volunteering guests.  After which, we will do a top to bottom clean-up of the house and departing by 10am.
There will be an option to come a night early if your travel plans allow.  We'll have an early arrival check-in on Wednesday, April 26th.  There will be an additional cost for the extra night and food.  You can choose this option on the registration form.
What's Included:
3 nights Lodging in rented lake house
Water view and Mountain view
Welcome Meeting
All Dinners at house
All Breakfasts at house
Lunches and snacks provided for pack'n go
Group activities, games, music, dancing
Hot tub
Paddleboards and kayaks
Linens and towels
WiFi
Fireplace
Game room with 18,000 arcade games
Pool Table, Foosball, Skiball, Popshot Basketball
Multiple Washers and Driers
Firepit and outdoor funiture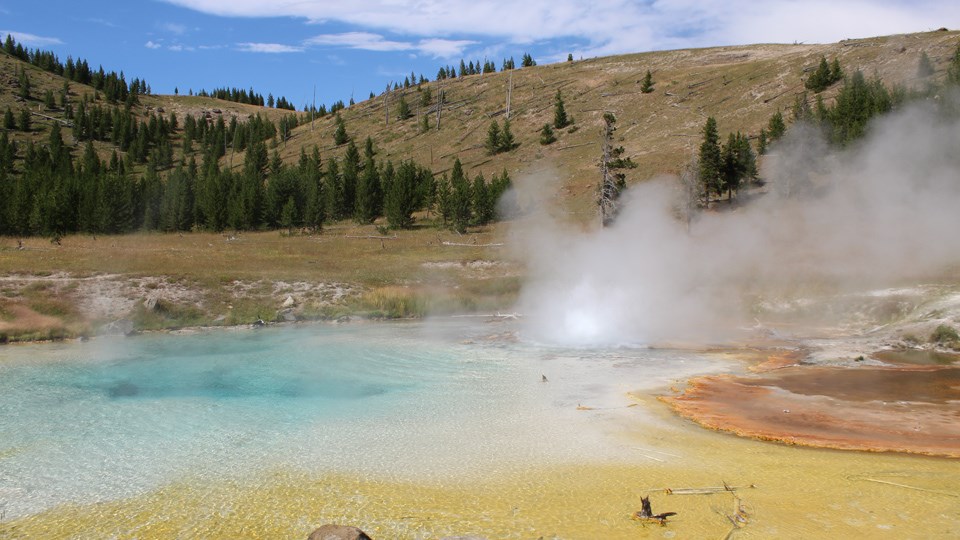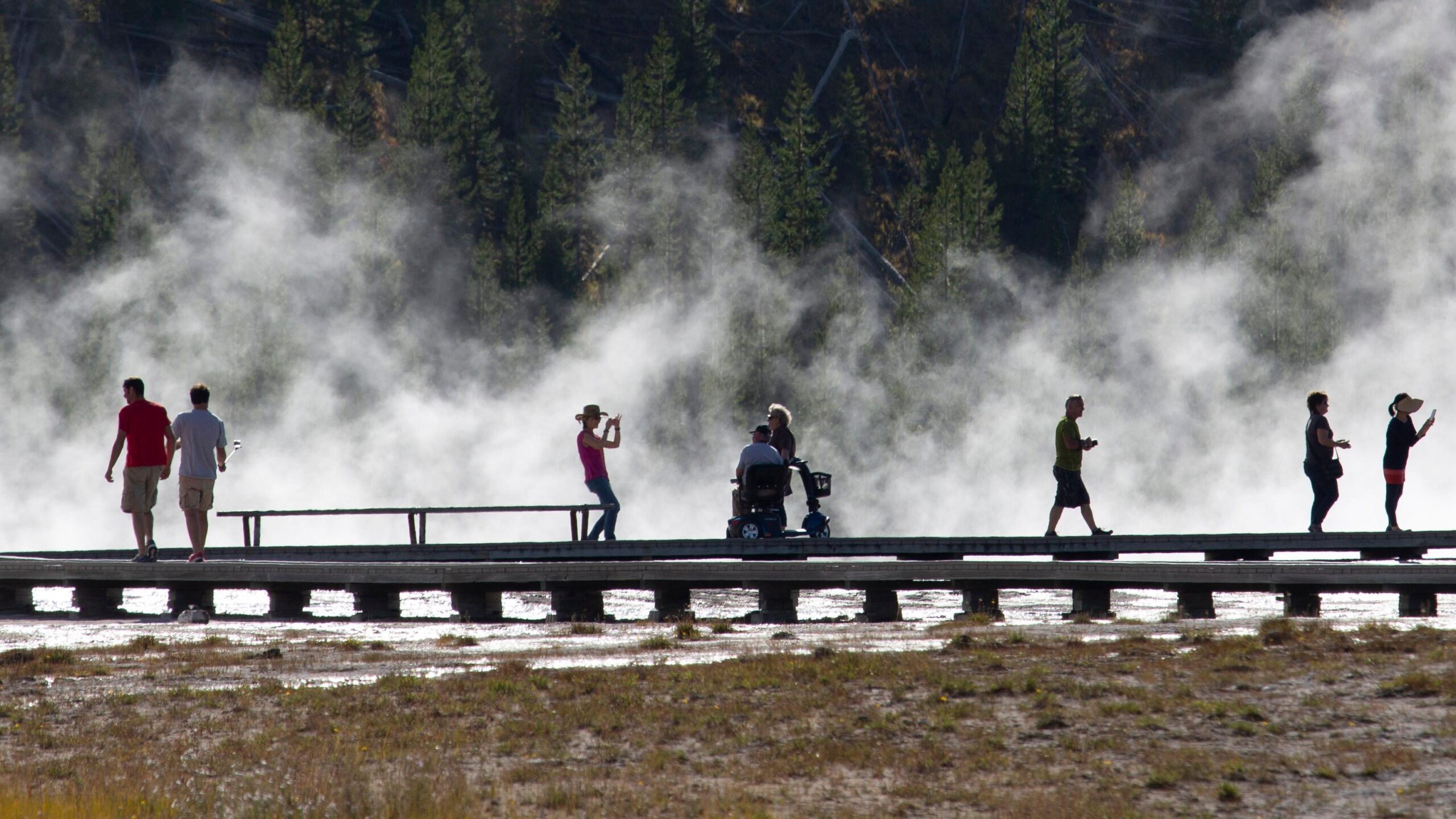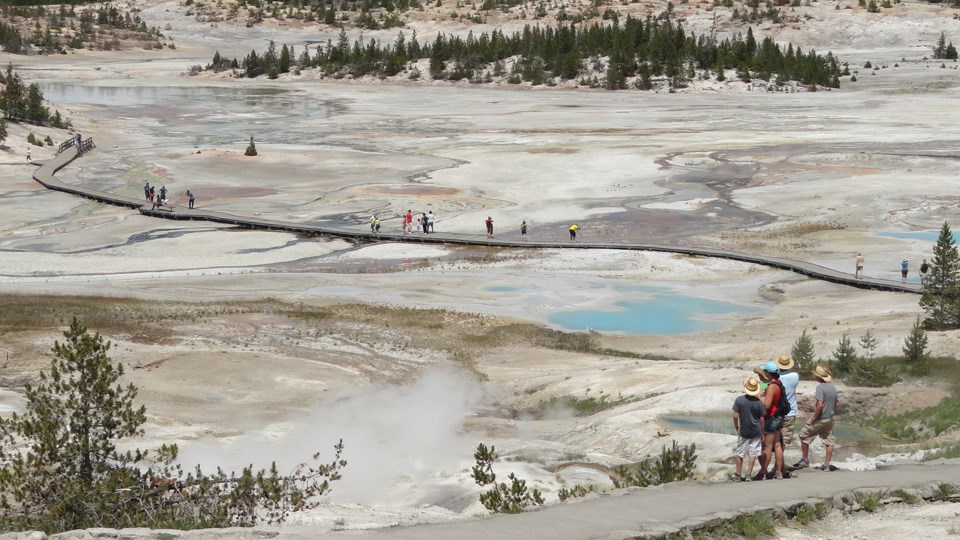 Our Home Away From Home
Waterfront on henry's lake
Amenities include:  WiFi, Heating, AC, Towels & Linens, Washer & Dryer, Game Room, Paddleboards, Kayaks, Hot tub, and more.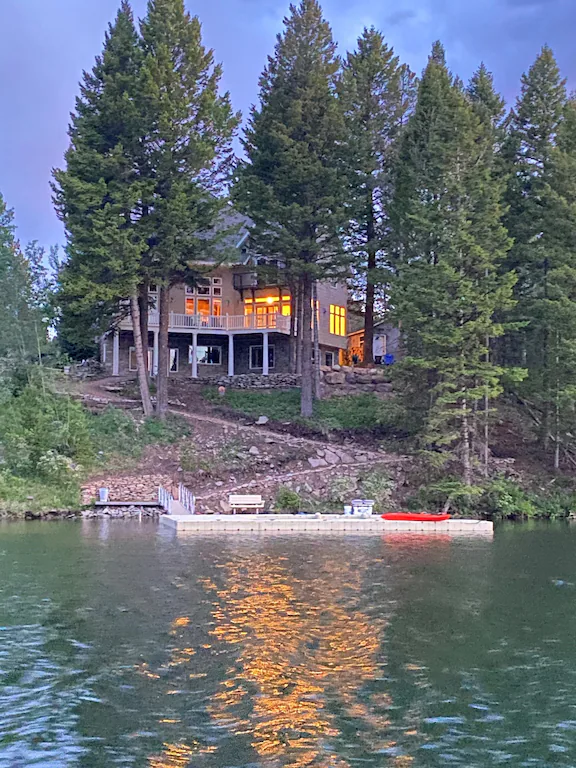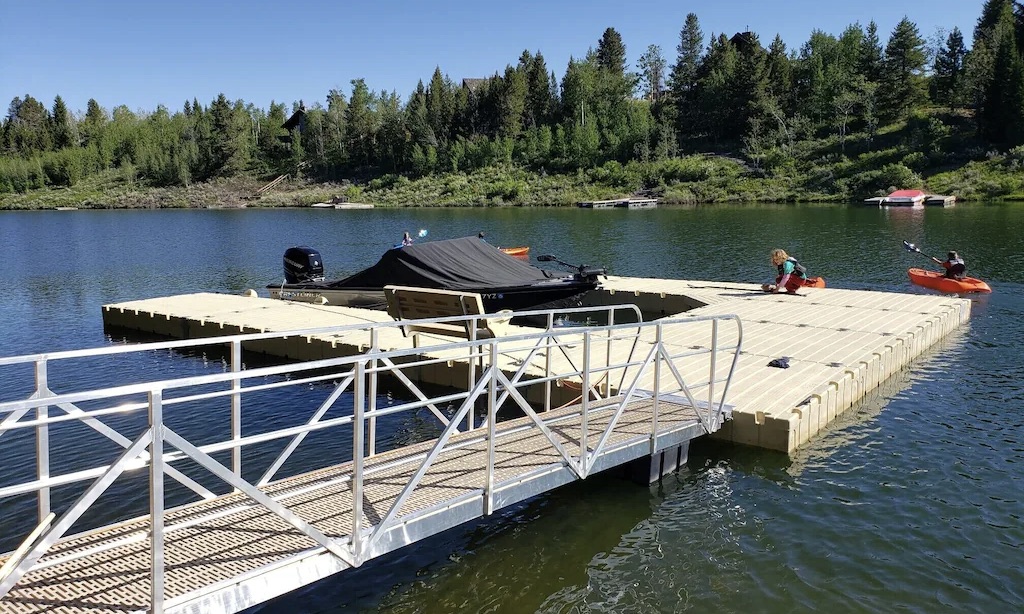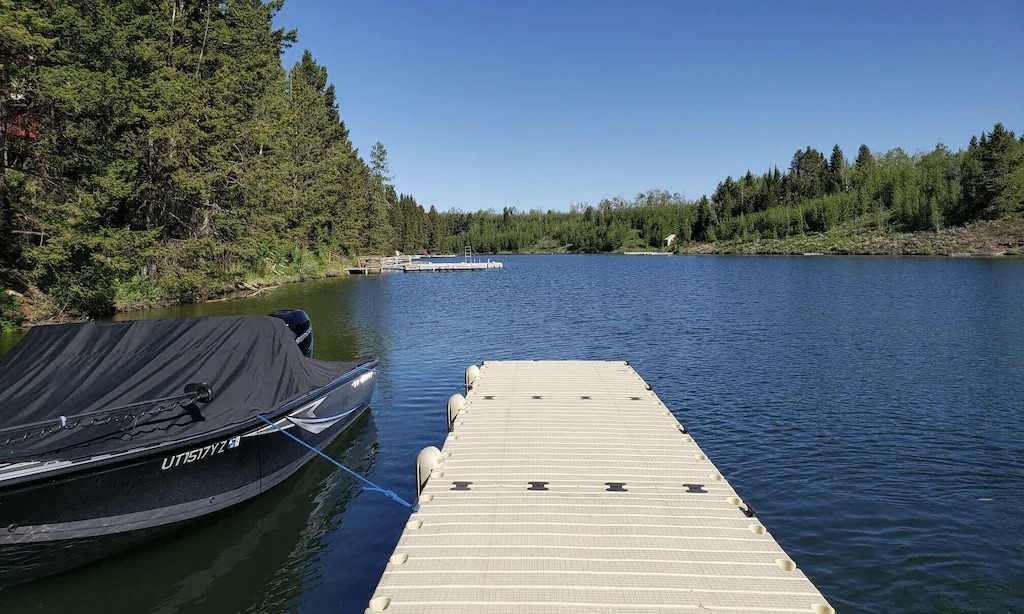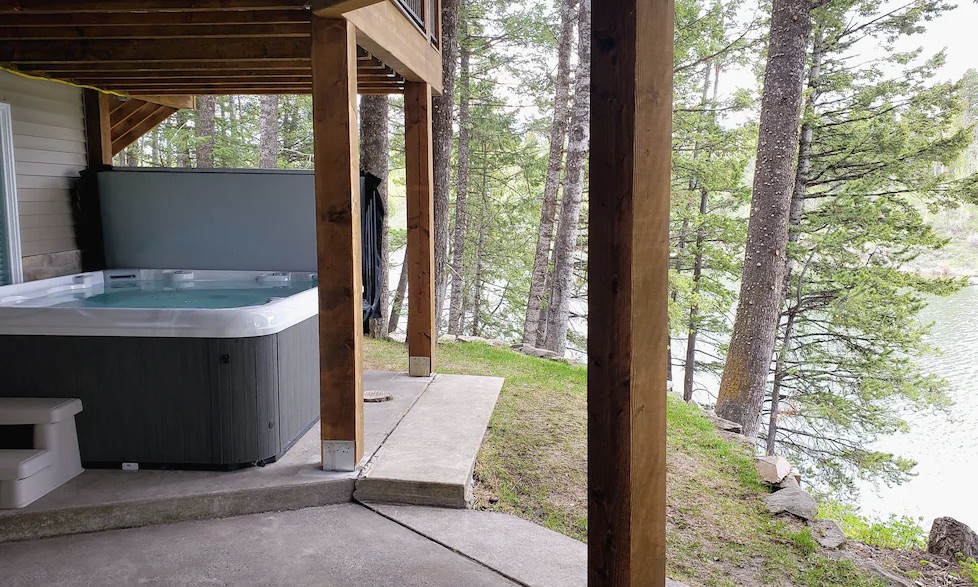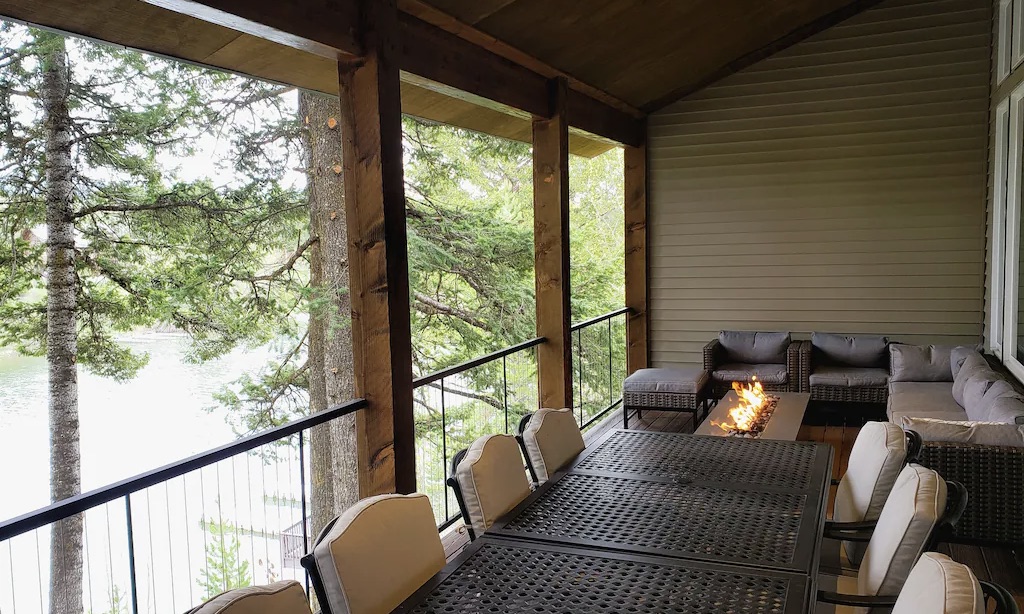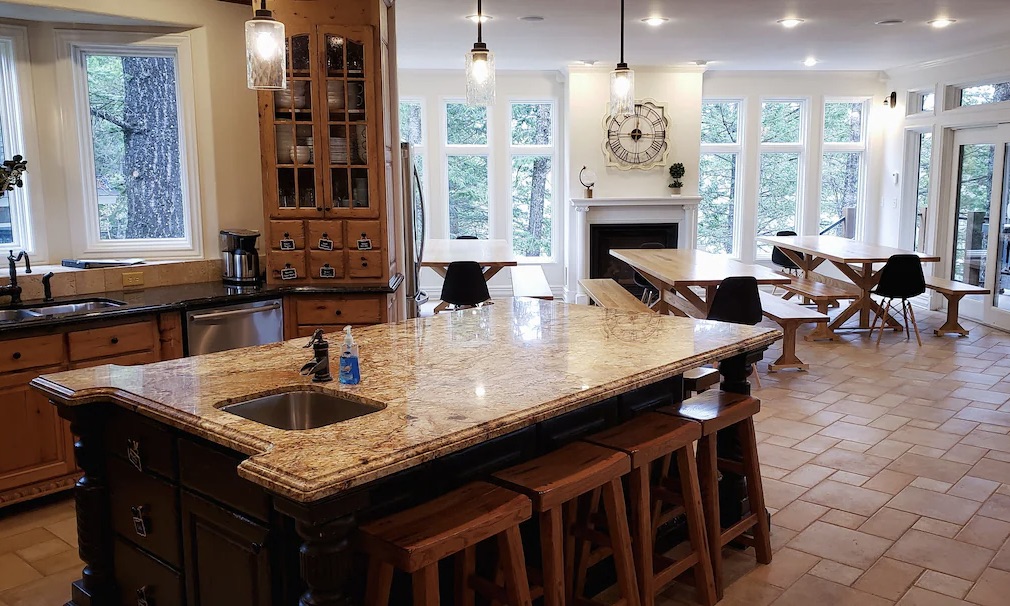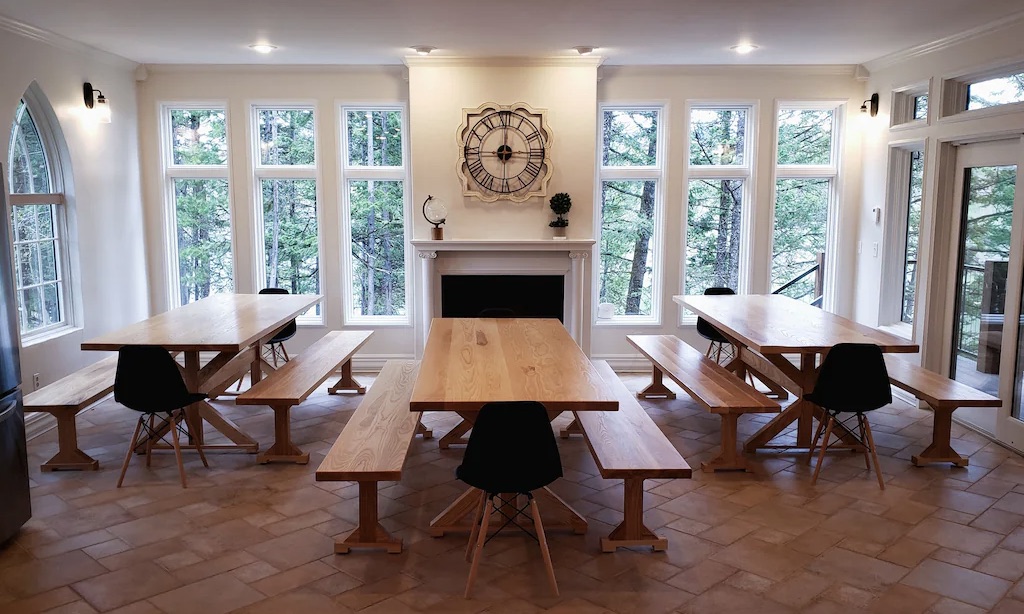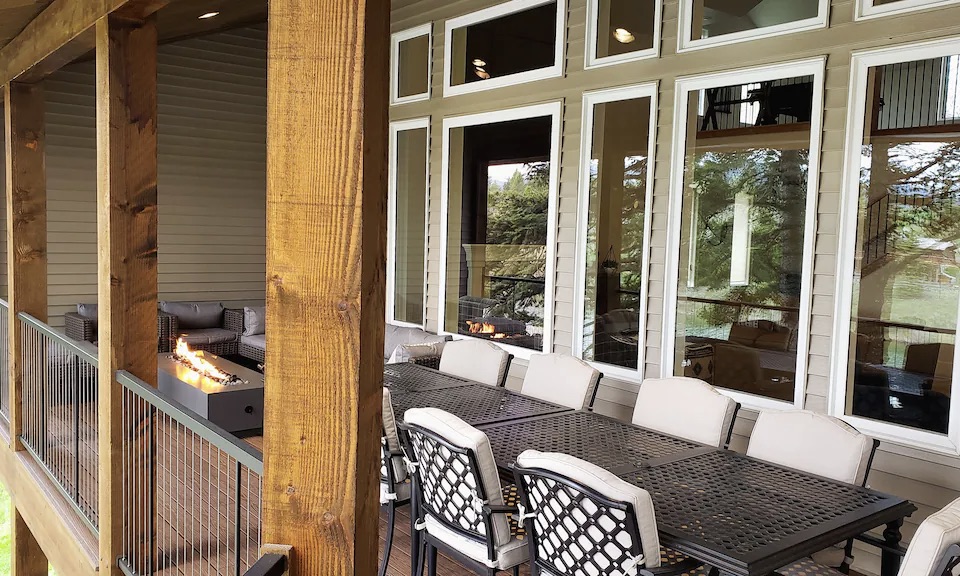 This home is situated on Henry's Lake. Walk outside and you can immediately access the water. We have over 10 kayaks and paddleboards for adults and youth with various size life jackets for renters use. This is situated on a wakeless part of the lake so its a great place for the kids to swim, kayak and paddle board where you can see them.
The cabin is approximately 7800 square feet and situated only 25 minutes to the West Entrance of Yellowstone National Park! Close enough to visit the park every day if you wish. The home boasts a 1400 square foot garage with a pull through for your boat and snowmobile trailers and plenty of parking. In addition to the house offering an amazing waterfront location, we also understand what it takes to make a great family reunion: lots of activities for people of every age and ability. We have a dedicated arcade/lounge room complete with an arcade game with over 18,000 games, commercial skee ball and commercial basketball hoop arcade plus other fun activities. We also have a commercial air hockey and foosball tables. A large media room with an 80″ TV, and a board game area with lots of games for every member of the family are located in the basement. A pool table is located upstairs in the loft.
The dining room and kitchen seats 30 people. The house has a BBQ grill and outdoor seating with relaxing fire table. Most bedrooms are single king size beds with luxury linens provided. We also have a bedroom that has 2 queen bunk beds and a twin bunk bed room. We offer 7 bathrooms so no one is waiting their turn. The garage is heated in the winter for the snowmobile groups who need a large mud room area to dry wet gear. We offer 3 sets of washer/dryers, 3 full size refrigerators, 3 microwaves, 2 full size ovens, a gas cooktop on the main level and induction cooktop in the basement kitchen. Our kitchen is very well stocked with Instapot, crock pot, 2 griddles, waffle irons, coffee makers, Blendtec blender, Kitchenaid stand mixer etc. Everything you could need to make a large meal.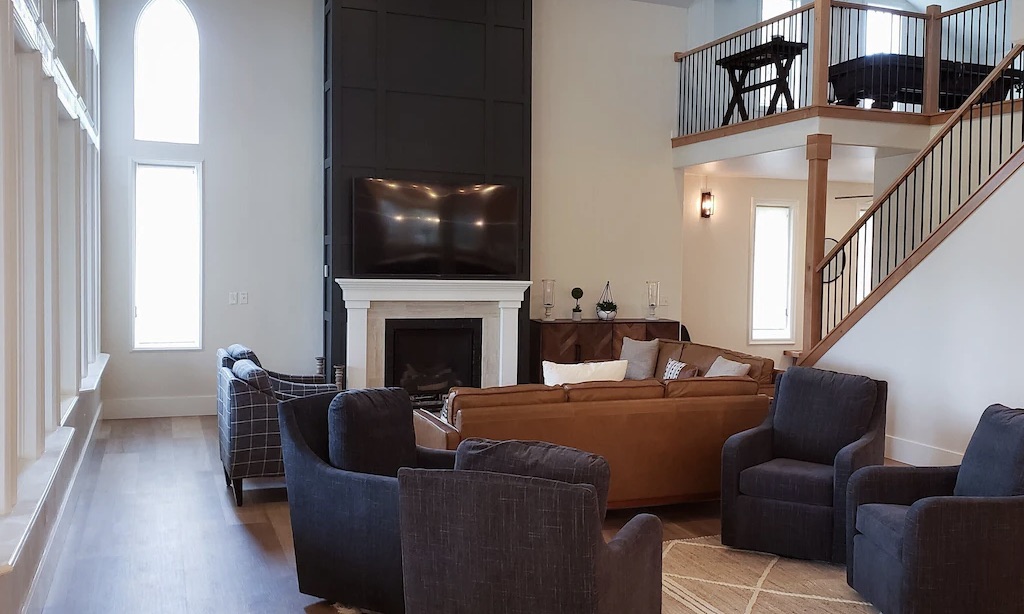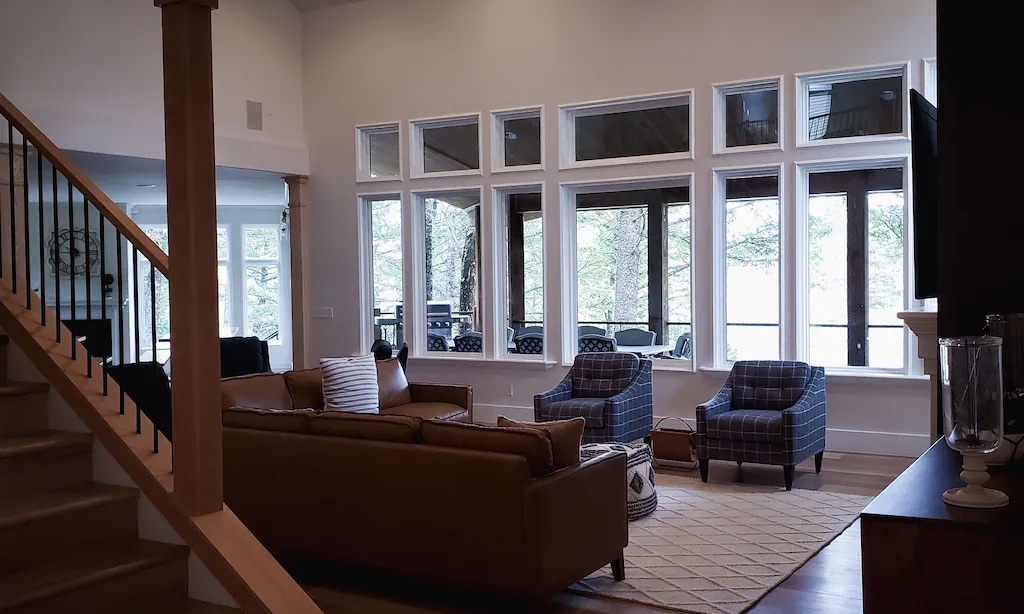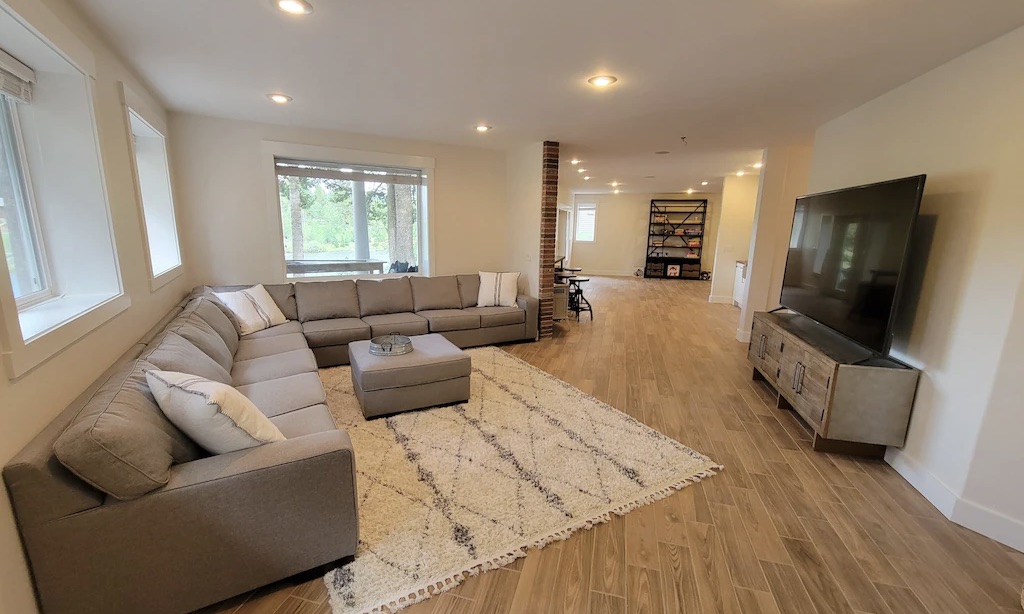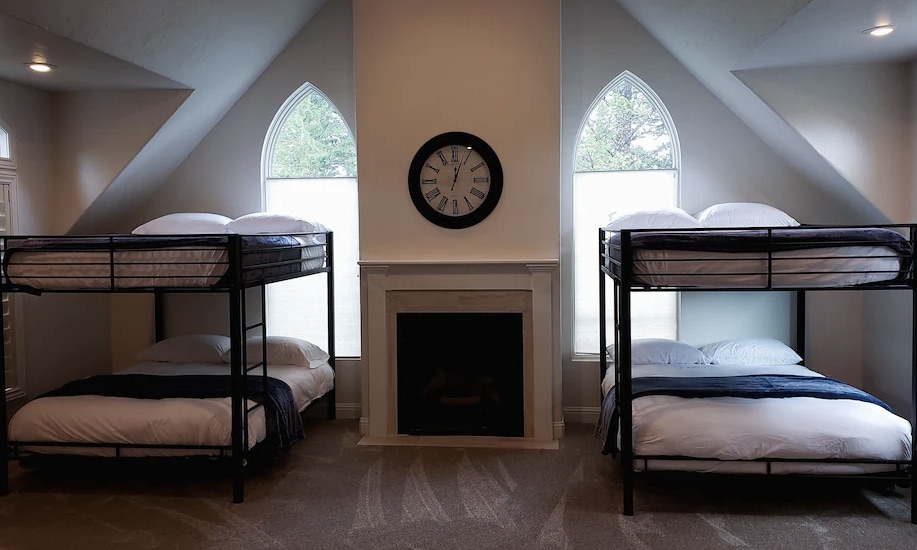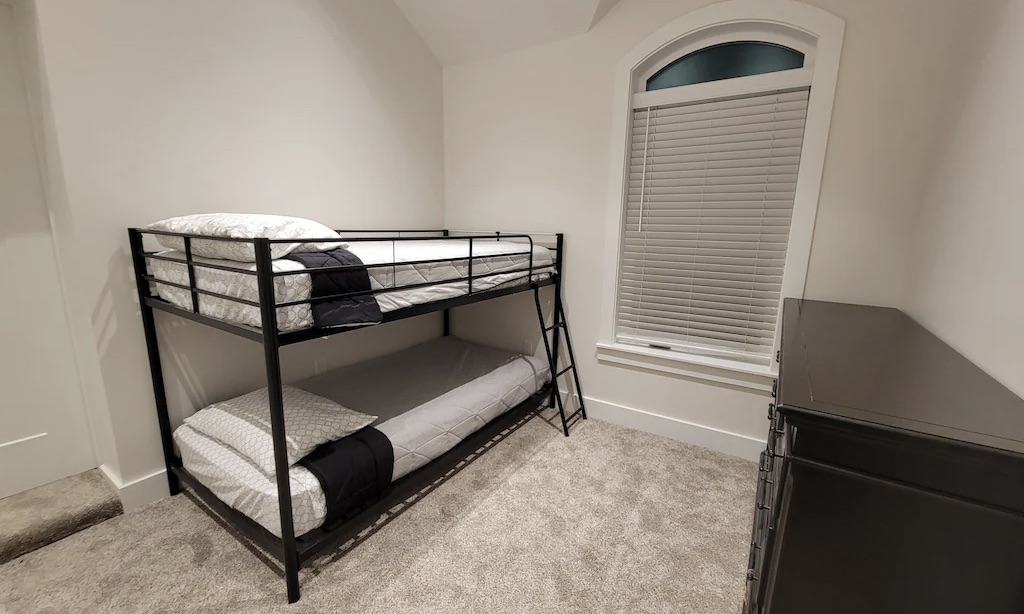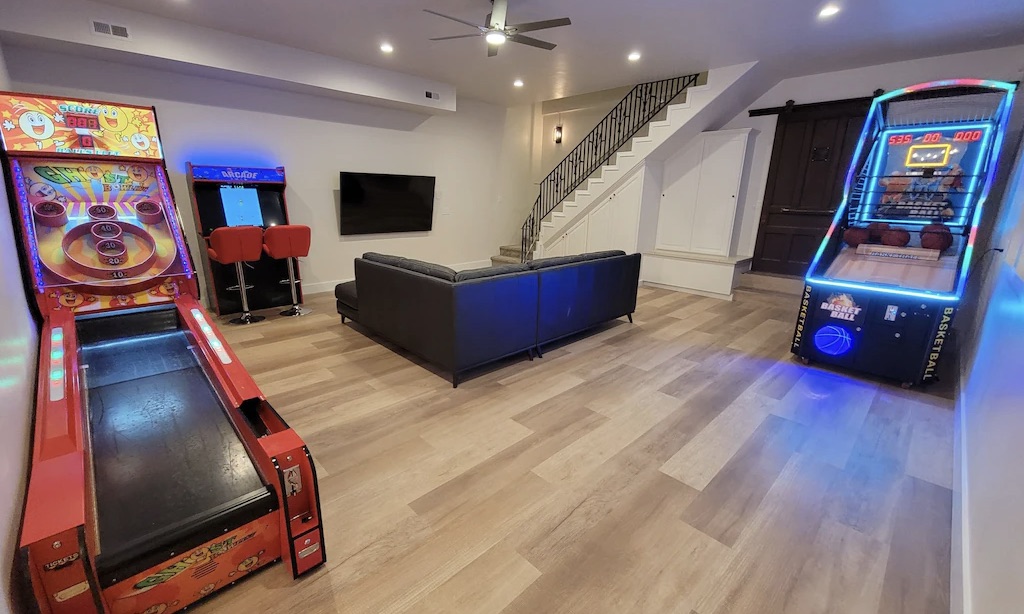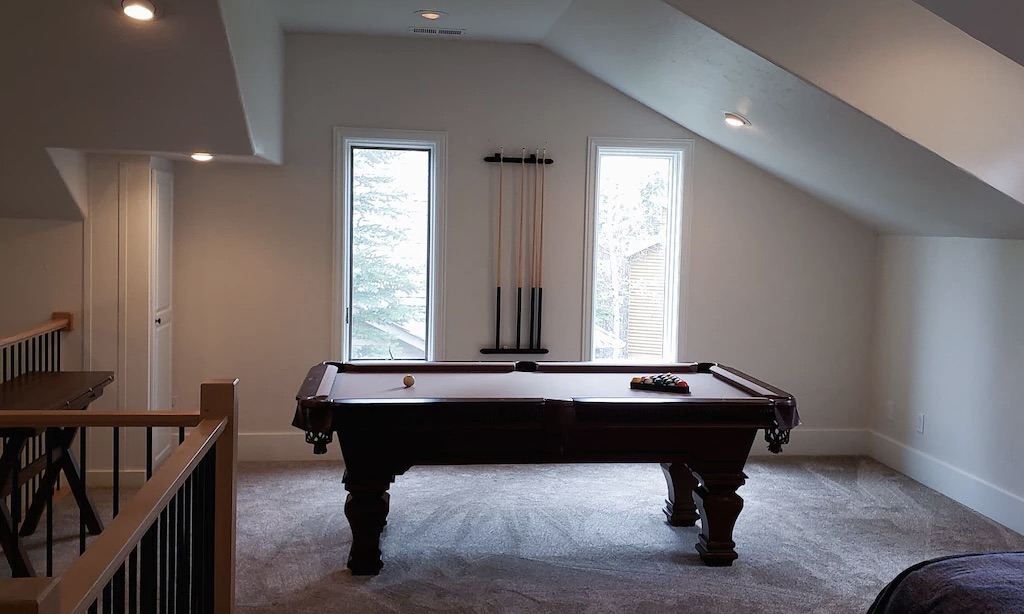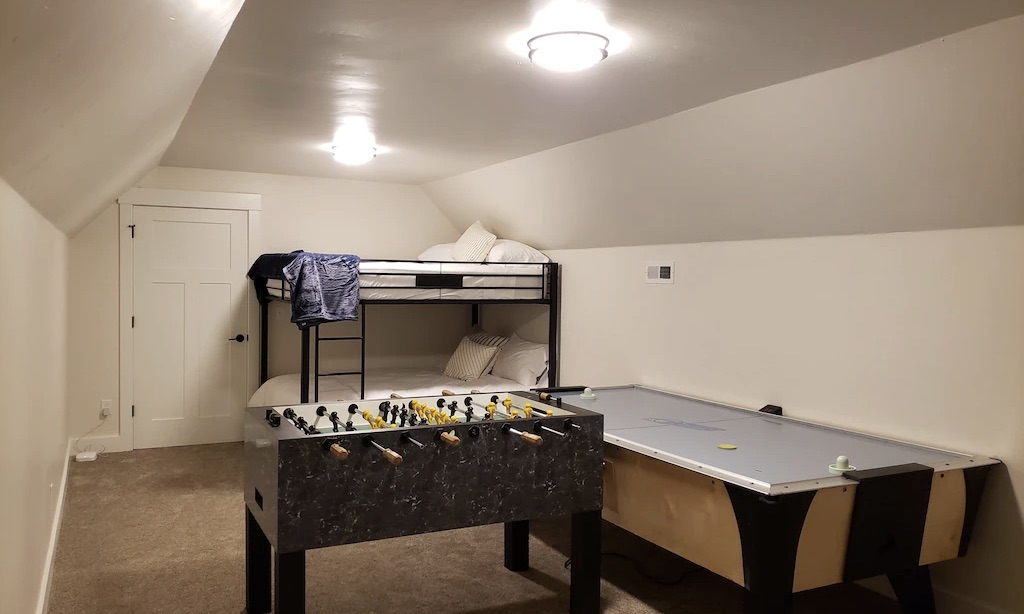 Female Shared Rooms
Own King: $695
Shared King: $495
Floor Spot: $395
male Shared Rooms
Own King: $695
Own Queen (Bunk): $595
Twin (Bunk): $495
Floor Spot: $395
Wednesday Night Add-on
Own Bed: $150

Incl. Thurs. Breakfast & Lunch 
Payment Terms and Pricing
Space is limited to 26 persons.  

Pricing is per person and includes all taxes and fees.  

Rates are subject to change at Any Time.

Deposit of $300 is due at time of booking.
Balance is due by Feb 1, 2023.

Full payment is due at time of booking for any reservation made after Feb 1, 2023

Reservations are non-refundable.
Reservations may be transferred to a person of the same gender with a $100 name Change Fee.
Know before you go
The house is located in Island Park, Idaho on Henry's Lake near Rt 20 & 87 about 90 minutes north of Idaho Falls, ID, 4.5 hours from Salt Lake City, UT, and 2.5 hours from Jackson, WY. 
Nearby Airports:  We will be near the park's West Entrance. An option very close to the West Entrance is the Yellowstone Airport near West Yellowstone, Mont. It's a smaller airport but is only 10 minutes from the park entrance. Another option is the Idaho Falls Regional Airport, two and a half hours from the West Entrance.  The largest airport for the West Entrance is Bozeman Yellowstone International Airport, a two-hour drive to the park.

This retreat is not a church sponsored event but LDS Standards are expected to be maintained.
Not Included:
Transportation to the park.  We will be relying on each other to carpool to and from the park.

Park Entrance Fee – $35 for the non-commercial vehicle pass. Good for entry into Yellowstone National Park for seven days from the date of purchase.  You only need one pass per vehicle, NOT per person.  Click here for more options and information, including the $80 annual pass, which is good in every US National Park for one year.

3rd Party Optional Excursions.  There are many companies in the area if you choose to hire a guide or rent equipment.

Travel Insurance, highly recommended since life happens.  (Contact Cheri's Travel Spot for pricing)
Itinerary & Activities
*subject to change
Day 1:  Thursday, April 27, 2023 – Welcome!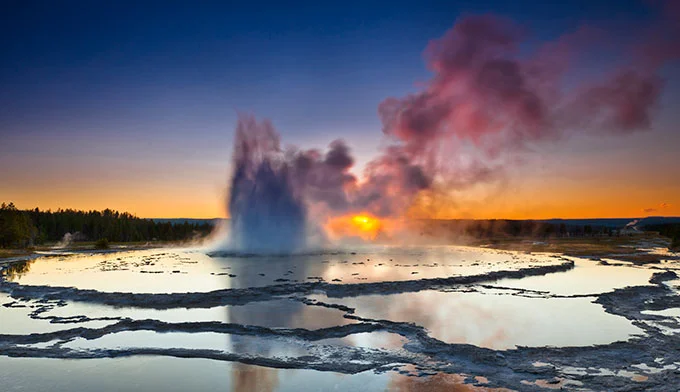 5pm – Check-In
7pm – Dinner at House 
8pm – Welcome Meeting
9pm – Free Time (games, socializing)
11pm – Quiet hours
Day 2:  Friday, April 28, 2023 – Activities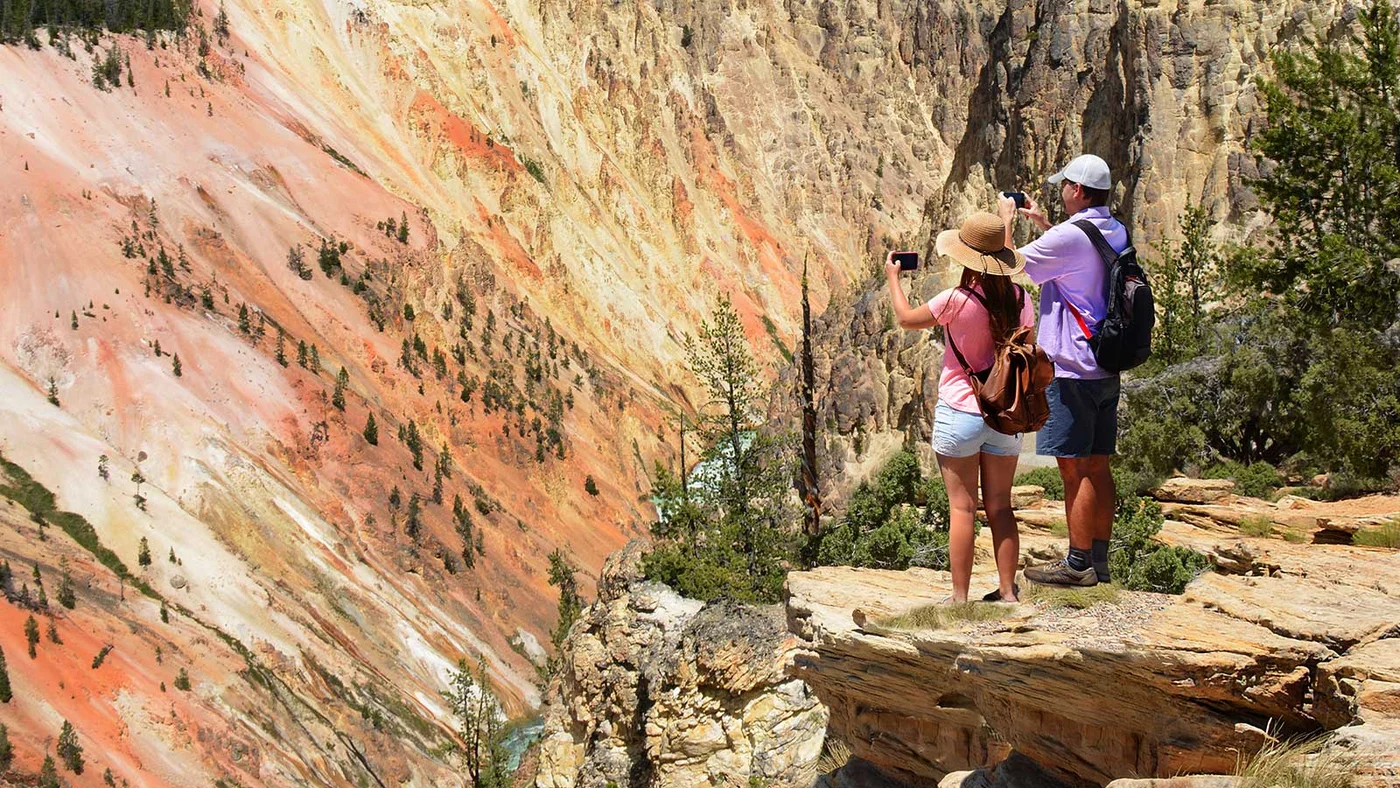 7am – Breakfast
8am – Depart for Yellowstone 
7pm – Dinner at House
8pm – Free Time (games, socializing) 
11pm – Quiet hours
Day 3:  Saturday, April 29, 2023 – Activities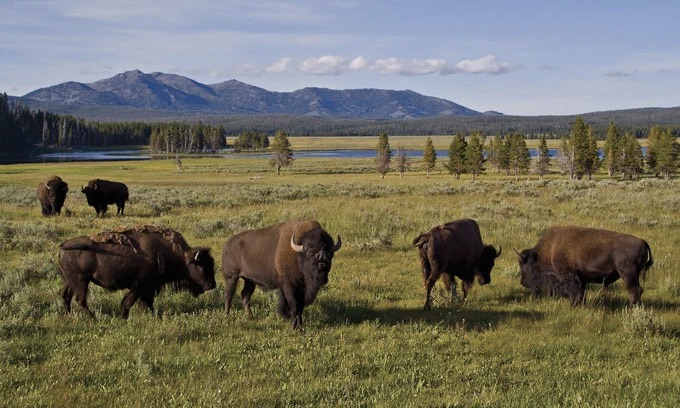 7am – Breakfast
8am – Depart for Yellowstone 
7pm – Dinner at House
8pm – Free Time (games, socializing) 
11pm – Quiet hours
Day 4:  Sunday, April 30, 2023 – Depart for Home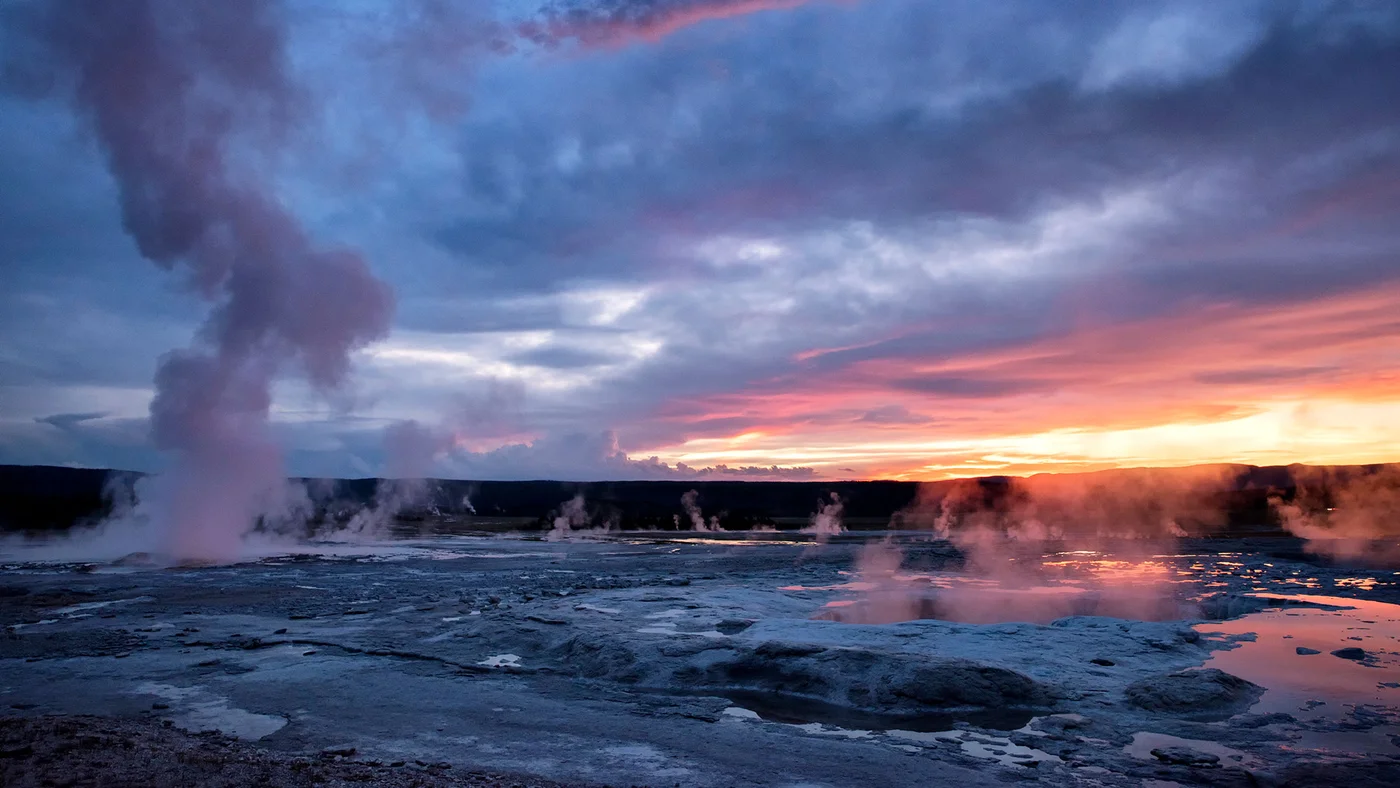 7am – Breakfast
8:30am – Group Photo
9am – Devotional/Sacrament
10am – Checkout
Download the Official NPS App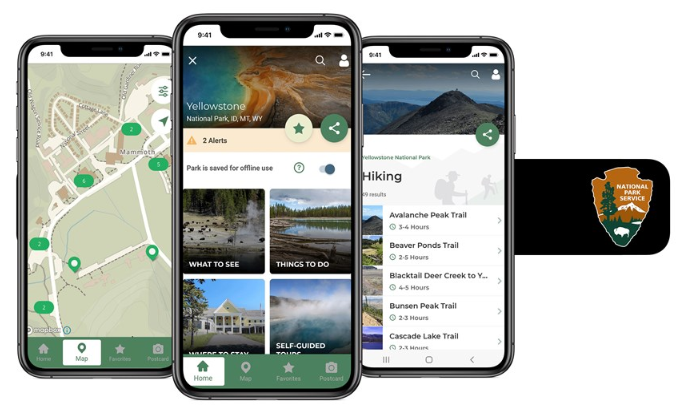 One app, every park at your fingertips. The NPS App is the new official app for the National Park Service with tools to explore more than 400 national parks nationwide. Find interactive maps, tours of park places, on-the-ground accessibility information, and much more to plan your national park adventures before and during your trip.
The NPS App is currently available on iOS and Android mobile devices. It can be downloaded for free through the App Store and Google Play. Since cell reception isn't reliable at Yellowstone National Park, be sure to download the app and save for offline use before coming to the park. This can be done through the toggle switch located at the top of the Yellowstone section of the app.
Features
Interactive Maps: see where you are located within the park and find what is nearby, including points of interest, roads, trails, and other information to plan your trip.
Geyser Predictions: real-time geyser eruption predictions for Yellowstone, updated daily.
Park Tours: self-guided tours take you to interesting places in the park. Find suggestions for places to go, directions to get there, and things to do once you arrive.
Amenities: learn where you can find and access transportation, food, restrooms, shopping, and more.
Offline Use: you can download content from entire parks for offline use. It's especially handy if you're exploring remote areas in parks or concerned about data limits.
Things to Do: what do you want to do in a park—hike? Take a scenic drive? Have a picnic? Discover all the fun, entertaining, and educational activities parks have to offer.
"May your adventures bring you closer together, even as they take you far away from home"
~ Trenton Lee Stewart